Nov 23, 2022
The Kitchen Island, here's our take!
 A kitchen island is a great way to increase productivity in the kitchen, but it can also mean the most social room in your home. This can mean a hub to increase family time, an area for when friends come round, and having your morning coffee. If renovating your kitchen and would like to add an island, there are a few clever tips and tricks regardless of your space and layout.
Choosing the Right Size and Shape Island
One of the first things you'll need to consider when adding an island to your kitchen is size and shape. If you're short on space, a small L-shaped island can be a great way to add both workspace and storage without taking up too much room. If you have more space to work with, a central island can be a beautiful focal point for your kitchen.
Having a small L-shape island at the end of your worktop requires minimum space and can usually fit 2 bar stools which integrate beautifully into your workspace. This type of island is perfect if you want to save space as it doesn't encroach too much on floor space.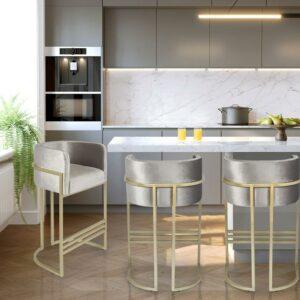 A central island if you have the space is a beautiful feature and can be the social area of your home. In addition to extra workspace and storage, kitchen islands can also add extra functionality to your kitchen. A popular way to do this is by adding your hob into the centre of the island. This way, you can cook while still being able to socialize with guests or family members who are in the kitchen with you. Central islands are great for open plan living as they naturally create a focal point in the room.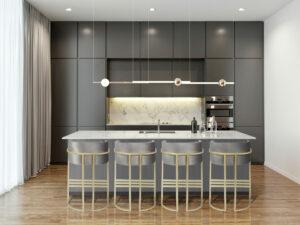 A kitchen island is a great way to add both style and functionality to your kitchen. When choosing an island, it's important to consider both the size and shape of your space as well as what functions you want it to serve. With a little bit of planning, an island can be a wonderful addition to any kitchen. Check out our wonderful range of
bar stools
, including the best selling
Athena
and
Leo
!
You May Also Like
Jul 11, 2023

ROOBBA x Belle Lucia

ROOBBA are so proud to announce the collaboration with the beautiful Belle Lucia and the launch of ROOBBA x BELLE LUCIA. Our heart and soul as ROOBBA is to

Read More

Dec 13, 2019

CHRISTMAS HOME DECOR: OUR TOP TIPS

Now's the perfect time to chuck out the old and in with the new! And that might include decorating that spare room or having a complete redesign to transform

Read More