Jan 16, 2020
HOTEL INSPIRATION: PART 1: AFRICA
Welcome to our 5 part magazine series of finding the most beautiful hotel interiors and taking them as inspiration to furnish your home with affordable furniture. This series will consist of our chosen winning hotel from around the world, one in Africa, Europe, Asia, Middle East and The Americas. We hope each provide inspiration to help design your home… We all look forward to our holidays, when you arrive in a beautiful location, perhaps somewhere on the beach, or a city break. Either way, the culture and definitely the good memories can help inspire our design creativity. Our first winning hotel within Africa is Delaire Graff Estate in South Africa. A breathtaking location, from the moment you arrive you can sense the beautiful respect for nature entwined with design, led from the heart.
The interiors are something to be admired and have a real homely feel. Taking the living room area in one of the lodges as inspiration, you can see they concentrate on bespoke furniture with dark wood finishes together with warm palettes of navy and grey. To achieve this design feel using ROOBBA's affordable furniture, we can use the 3-seater dark grey sofa "Irwin" and partner it with "Lonnie" armchairs.
We can then add an affordable coffee table, which has a darker tone to get the feeling of the lodge. We can use either "Aiden" or  "Kenyetta" to achieve this. Or, if we're really feeling the natural wood element of the lodge, we can use "Dylan" and as a plus, you can even have your wine bottles on show. Pretty suitable given this hotel is a world famous vineyard.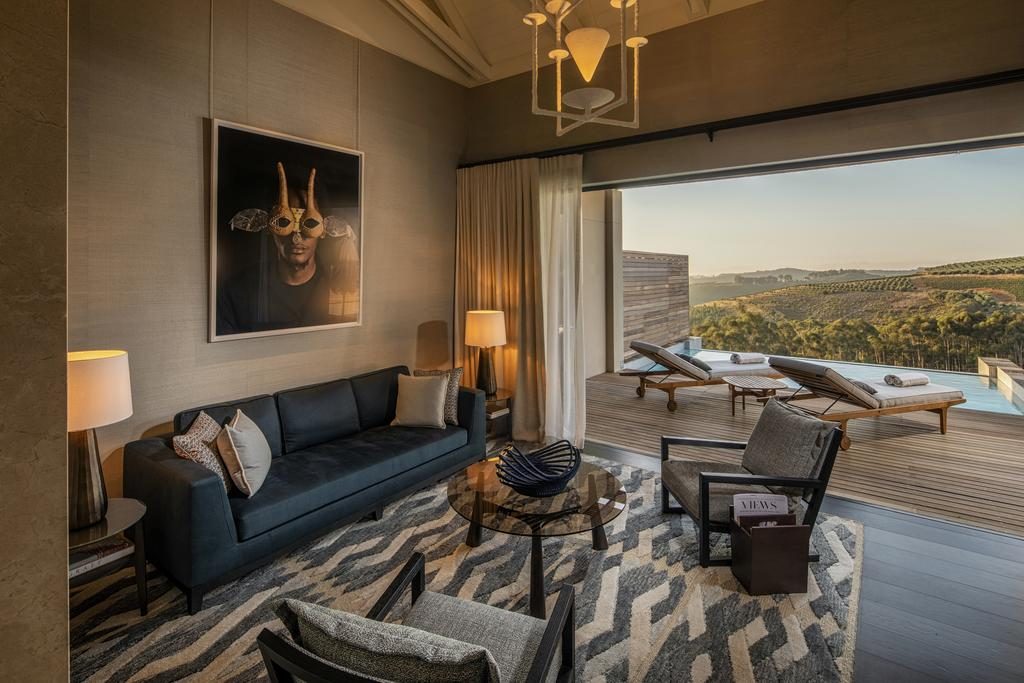 To add the finishing touches, we can see they add modern table lamps and contemporary ceiling lights. Using tones of gold and bronze, there is an added layer of modernised luxury. We can use either "Everest" or "Eiffel" as table lamps and "Mao" as the ceiling light to achieve this feel.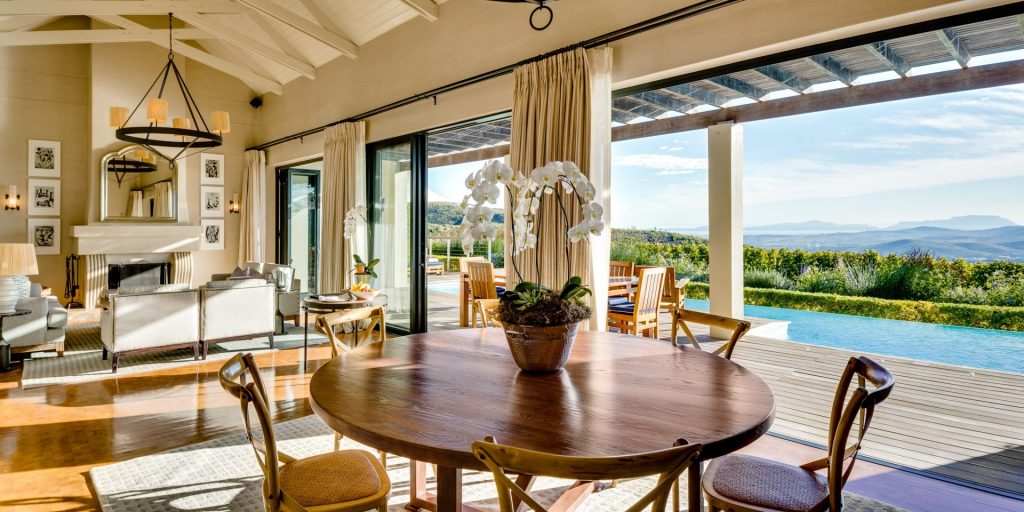 We can see from the photos of the bathroom and another beautiful lodge that the use of natural wood such as Oak, Walnut and Chestnut are very prevalent. The use of wood gives a very warm, earthy design feel.  To create this look with an affordable dining set, we can use wooden dining tables such as "Gabriel", or "Jenny" and pair them with dining chairs of similar colour palettes. Such as "Leila" or "Steffi" who have wooden chair legs, or "Hunter" which comes in eco-leather of either brown, grey or green.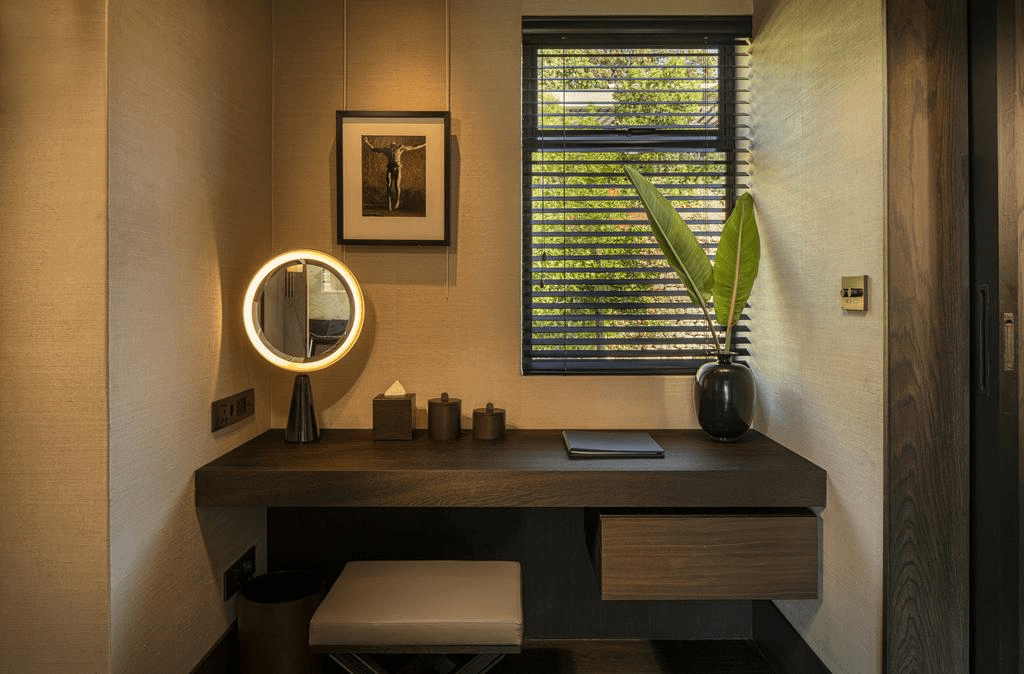 Overall, the beautiful emphasis on natural woods and warm tones create a homely, cosy feel with the added air of luxury by adding tones of either gold or bronze, and hues of neutral cream within the lighting and accessories. It is definitely the case that Delaire Graff Estate is a natural beauty.
Be sure to also read Part 2: Europe, Part 3: Middle East & Part 3: Middle East for more home inspiration.
You May Also Like
Oct 13, 2022

London Enterprise Awards Winner

We are delighted to have been voted Most Luxurious & Affordable Furniture Company 2022 in the recent SME News Greater London Enterprise Awards! We continue to strive to offer

Read More

Dec 12, 2019

DESIGNERS "INTERIOR DESIGN TIPS"

ROOBBA was founded by interior designers and as a brand, we are very proud to be design led. We have an incredible team of designers who have a real

Read More